Autodesk Cleaner (Not Recommended)
Autodesk Cleaner has not received a version upgrade or update since September of 2006 because of a restructure of Autodesk's desktop video department. As a result, Autodesk is not our recommended software for encoding your videos. Bottom line is that Sorenson Squeeze and Compressor are far superior programs for a little less money, and will give you better results if you need an advanced compression software program. Quicktime Pro is still the best program for simple compression to H.264 .mov format to be used on the web.
In it's "hay-day," Cleaner was one of the best tools for batch-encoding, but due to a lack of updates is no longer the best tool available. The major issue is with it's default codec that it puts on most of its preset formats. The $599 version uses Sorenson 3 codec which usually produces a pixelated video result. The Pro version is better but will run you another $299 on top of what you've already spent. This codec still cannot compare to the compression and quality to an H.264 codec but you can only select it manually, it does not come in any of the presets (source).
If you are stuck with Cleaner, here are the optimal settings to use for web compression.
We basically need to start from scratch because the default settings produce junky results. Open the program and drag in your source video file to the batch log window.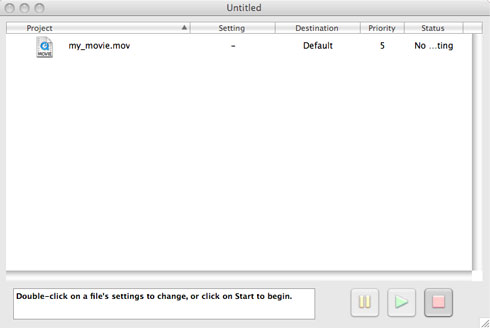 Here you double click on the blank setting area to modify the compression/conversion settings. This will bring up all the presets.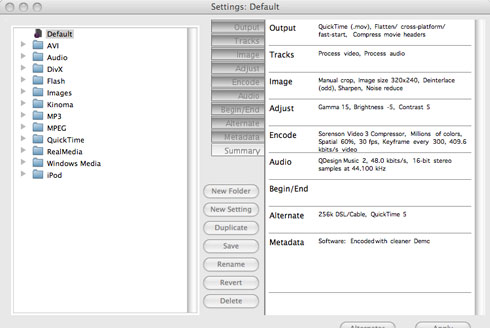 We don't want any of these, select the default to start from scratch, or you can create a new preset by selecting File > New. The major settings we want to make sure we have are H.264 encoding, 512 Kbits/sec data rate, NO keyframes, and MP3 audio.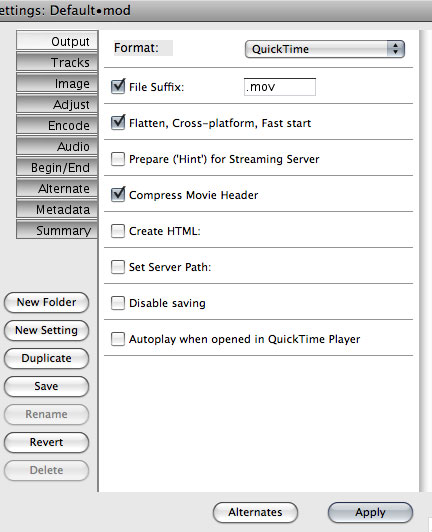 In the Output tab make sure you are converting to Quicktime format with the .mov extension. The Flatten, Cross-platform, Fast start, and Compress Movie Header boxes should all be checked as well.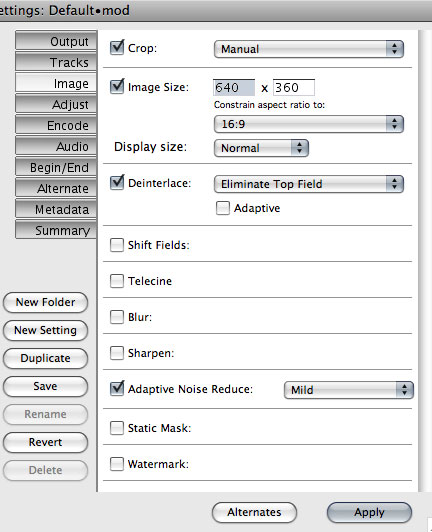 In the Image tab, manually adjust the pixel dimensions and aspect ratio for the web standard of 640 x 360 for 16:9 aspect and 480 x 360 for 4:3 aspect. Crop, Deinterlace and Adaptive Noise Reduce (Mild) should also be checked.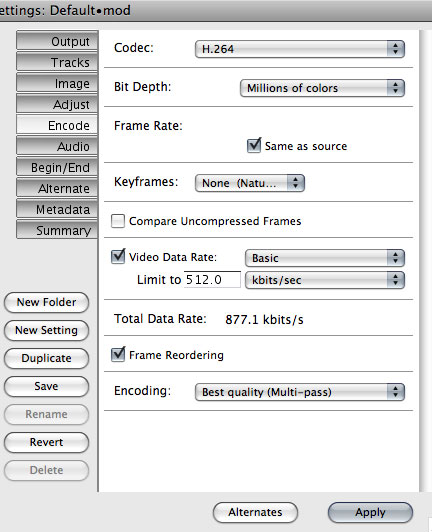 In the Encode tab, manually adjust the Codec to use H.264. Check the box for the frame rate to be "same as source," or you can lower it to 24 fps for a smaller file size. Change Keyframes to "None (natural). Also, manually change the video data rate to limit to 512 kbits/sec. Encoding should be set to Best Quality (multi-pass).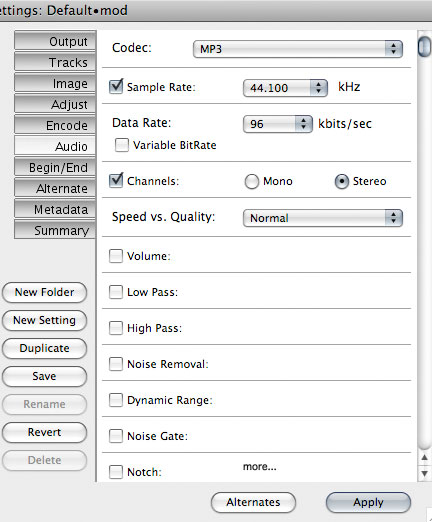 The Audio is up to you. Our suggestion is for either a MP3 setting at 44.100 kHz and 96 kbits/s or IMA 4:1 setting at 44.100 kHz. Keep in mind that better audio will produce a slightly larger file.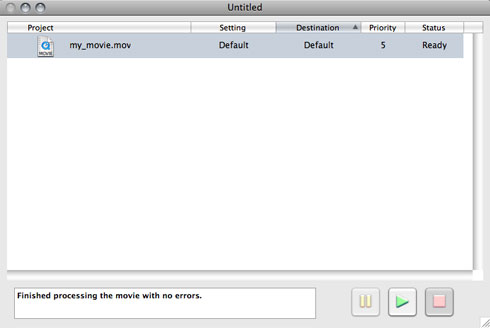 Click apply and then click the play button to start the encoding process. It will pop up a progress screen and using the H.264 codec will run through multiple passes and may not show an "overall progress" bar.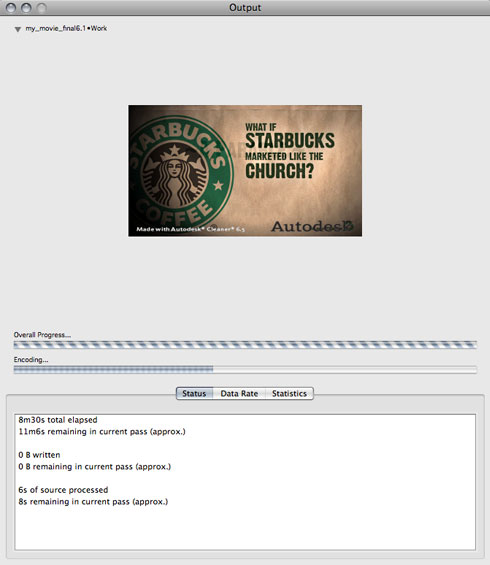 Depending on the length/quality of your source video, the encoding process may take quite a few hours. This may take much longer to convert/compress tha n some other presets, but will produce a great quality video at a very small file size.