Before you pay thousands of dollars
Before you pay thousands of dollars to a Search Engine Optimization (SEO) company, please read below. There are quite a few things that you are able to accomplish on your own in order to improve your search results.

Once you've completed these, give 2 to 4 weeks for your rankings to adjust. If you still are not satisfied with your ranking in the search engines, contact our I.T. Director at mikec@artistrylabs.com to setup a consultation call to learn how we can setup a customized Search Engine Optimization package for you.
STEP 1: Write good content
Writing good content is the most important thing you can do to help with increased traffic and your website rankings. Questions to ask in helping you write good content
Who are my visitors?
Write content that makes sense and is valuable to the visitors of your website. Visitors are more likely to return if they find your content valuable.
Is my site navigation clear?
This is not necessarily for search engines, it is for your visitors. If it is hard to find content on your website, most likely they will leave. Not only will they leave your website, they probably will not return to your website and certainly will not tell anyone to visit your website.
Is my content updated frequently?
The more your content is kept up to date, the more likely visitors will return.
Are their spelling and grammer errors?
Spell check your website. An easy way is to paste your content in your favorite content editor and run a spell check.
STEP 2: Write a description tag
The description tag allows you to influence the description of your page in the search providers that support the tag. For example, when I search for flowers in Google, you'll see their description under their listing.





If you do not set a description tag, the search engine will show content that it has taken from your website content.

Even though the description is seen as a way to help your site in the search results, it could possibly harm your website depending on how you implement the tag. Our recommendation is that if you are not sure how to write a good description tag for your site, leave the description blank and let your content do the talking.

Listed below are some ways to avoid having your site listing look like spam.
Don't Dump Lists of Keywords into Your Meta Description Tag
Put Real Content in Your Meta Description Tag
To update your description tag in the Content Management System: Login to your administration portal, click on "Site Management" > "Site Definitions"
STEP 3: Write descriptive site and page titles
If the title to your site is "Main Street Church", there isn't much information there. Try something like "Main Street Church - contemporary worship in Main Town, TX". Now when someone searches for "contemporary church Main Town, TX", you have a better chance of showing up.

The same thing goes for your page titles. Take a chance to say 3 or 4 words about what the page is about. ** The page title is also what is used to link to your site from search result listings.
STEP 4: Use the ALT tags for images
As of now, search providers do not read images and attempt to find out what they say. Search providers rely on what's called the ALT tag to determine what the image is about.

When adding images to your website, there will be an "Image Description" option where you can type in what the image is about. For example, if my image is a picture of a loveable family, I will make the "Image Description" say "Picture of a lovable family". That text will get picked up by search providers and go toward the content used in your site rankings.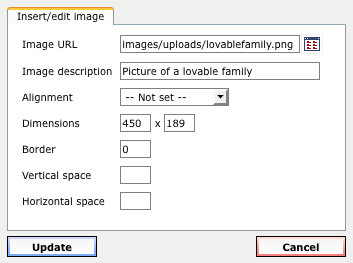 STEP 5: Update your content regularly
Creating quality content on a regular basis will improve your website's search engine rankings. Search engines like websites and pages that have content updated often so it's best to keep your content updated.

In addition, visitors may return to your site more frequently when your content is being updated on a regular basis.
Frequently Asked Questions
How do I submit my website to a search engine?
There is no need to pay someone to submit your website to thousands of search engines. The leading search engines, such as Google and Yahoo!, use crawlers to find pages for their algorithmic search results. Pages that are linked from other search engine indexed pages do not need to be submitted because they are found automatically.

Because of this, we suggest that if you are really concerned about your website being listed, submit it to the main search engines below and your site will eventually get picked up by other search engines.
Who are the top search providers?
According to research done in July 2010 by Nielsen Wire, the top search providers are listed below!