Page Layout
Page layout is found in Page Properties > Page Layout
Page layout allows you to define the parameters for your page and organize your content. Your content area is divided into 3 rows:
A top row that is 100% the width of your content area
A middle row that is defined by

Page Layout

A bottom row that is 100% the width of your content area
To rearrange content within these rows, click Sort Content in your Perpetua Toolbar.
The Page Layout window allows you to edit the column widths of the middle row on your page. You can have one, two, or three columns. To set the widths of each column, you can select preset options from the pull down menu (see 1. below) or you can type in percentages in the appropriate columns (see 2. below).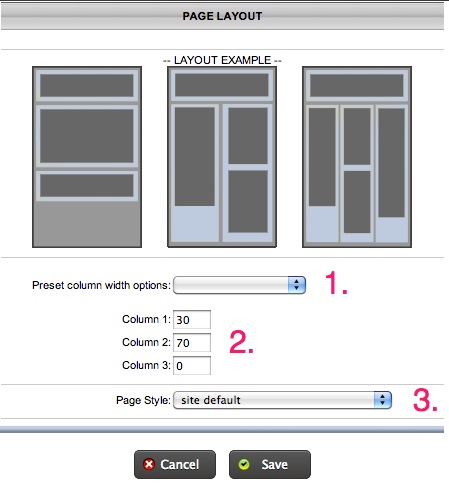 The Page Layout Window resizes the middle row in Sort Content
Some websites may have an additional Page Style option (see 3. above). This drop down list allows you to choose the layout style for the current page. This will change the design of the page to fit a Sub Brand or alternate look.
Common Page Layout Mistakes
Typing in percentages that do not add up to 100% (like 45, 45, 0)
Typing in percentages that equal more than 100% (like 40, 40, 40)
Leaving Column 1 empty with values in Column 2 and 3