Accessing the App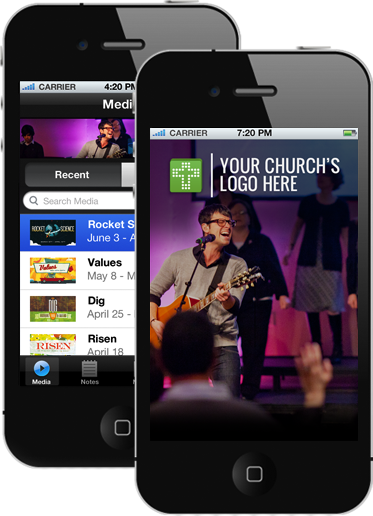 To access your app visit the iPhone App store and download the app to your iPhone.
For MyChurch+ users, search for MyChurch+. For custom app users you'll need to search by your church name.
Once downloaded, those using the MyChurch+ App will simply need to enter the church or ministry web domain name (i.e. www.mychurchwebsite.com) after launching the app to access their church's media.
Editing Quicklinks
One feature of the iPhone App is the ability to create quicklinks. These can link to your website, other media, and resources. To edit Quicklinks, login to media.perpetuatech.com and click App at the top of the page.

My Quicklink - This field allows you to edit the title of the Quicklink
+Add - The Add button allows you to add another quicklink to the list.
http://www.website.com - This field is where you set the link for you quicklink. The cancel button next to it will cancel this specific quicklink.
When you have finished creating your list of Quicklinks, click Save to keep your changes.
Uploading Your Church Images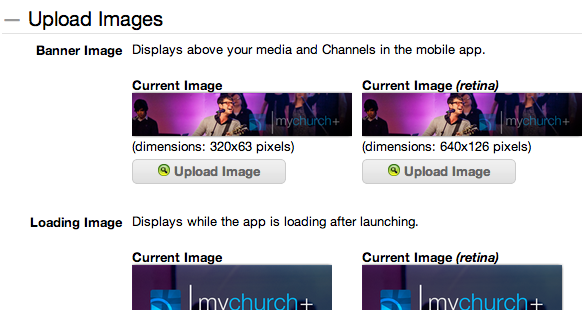 When setting up your app, it is important to upload the images that are unique to your church. There are two types of images to upload and two formats of each.
Note: Currently, all image files must be saved as a PNG
Banner Image - this image will display at the top of all pages within the app.
Loading Image - this image will display when the app is loading after launching.
Current Image - this image is for older iPhones without retina display. The dimensions for this image are listed below.
Current Image (retina) - this image is used for iPhone models with retina displays. The image dimensions are much higher and listed below.
Banner Image (non-retina)


320 x 63 pixels

Banner Image (retina)


640 x 126 pixels

Loading Image (non-retina)


320 x 480 pixels

Loading Image (retina)


640 x 960 pixels