Understanding the Library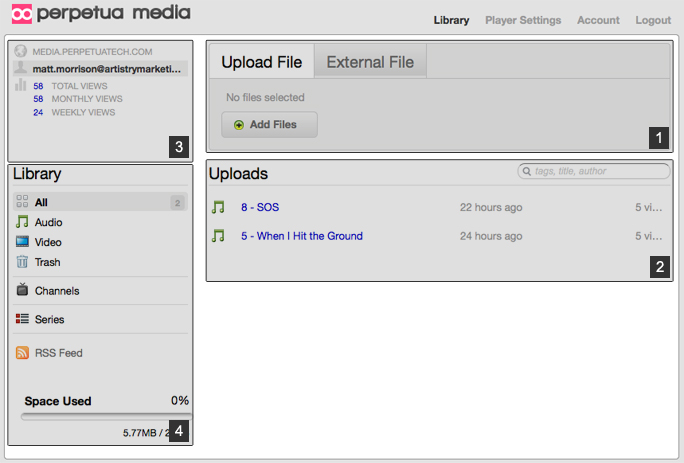 This pane is the starting point for uploading or integrating new media into the library. You can upload files from your computer or choose from an external source.

The uploads pane displays all of your audio and video, allowing you to sort, edit, or view your current selections. The search feature allows you to navigate through large amounts of content with ease.

The account viewer provides you with a snapshot of your media player's recent activity. This gives you vital information about the effectiveness of your media marketing.

The library sorter allows you to customize your current view; filtering your media by file type, channel, or series. It also provides you with information regarding your memory usage, helping you manage your online content.
Uploading a New Media File


If you wish to upload a new local file from your computer, select the "Upload File" tab in the menu on the top.



If the file you wish to post is already online, you can select the "External File" tab. In the field that appears, simply copy and paste the URL to the file and click "Add File".

If uploading a file from the computer, select "Add Files". You will be prompted to browse for the file you wish to download. Navigate to the file and select "Open".

Add multiple files by selecting "Add Files", browsing your computer, then selecting "Open".



If you decide not to include a file, simply select the red "X" to the left of the file name to remove it from the listing.



When finished, select "Upload" to make them available on the server.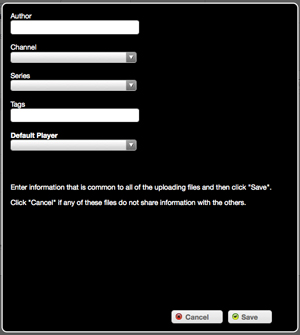 Set the META information that is true of all files in the selection. If they all share the same author, then you can set the author. Likewise, if they all belong to the same channel or series, then select the proper series. You can also choose "tags" or keywords for web searches of the content.
When done, select "Save".
Your new media will appear in the library once it the upload is completed.